Esthetic dentistry is a fundamental cornerstone of dental practice today.
Esthetics is important in modern society and a smile is one of the key elements that help define the look of an individual. The task of a dentist today when taking care of the front teeth is not only to take away the pain and restore missing teeth but to study what the best solutions and materials are to enhance a patient's smile.
Whitening
An attractive smile can be a significant improvement in your life. If you do not like the color of your teeth, you can change it. Patients may have from their dentist various effective whitening methods. For more information     click here
New technologies
Very recently new technologies have appeared on the market, which give us the ability to create more natural, totally "white" and more translucent dental crowns: teeth made in the laboratory more and more like natural teeth. The PFM metal-ceramic (porcelain fused to metal) system is still the most common system for dental crowns. However, the presence of metal prevents the translucency of natural teeth. In particular anatomical situations, the gray appearance of the metal is transmitted to the surrounding gum tissue causing gray aura that damages the aesthetic appearance of the crown. Even with these new systems, the final prosthesis, with the dentist's instructions, depends on the ability of the dental technician, who is fundamental for the end result. Machines build the inner shell, the framework of the structure; then the dental technician models the crowns to make them as natural as possible and to harmonize them with the individual characteristics of each patient.
New materials
Zirconium and lithium disilicate are 2 new materials that have recently been introduced in the dental market that can replace metal crowns.
They are white and very aesthetic; lithium disilicate, more translucent, is indicated to reconstruct the front teeth, zirconium, more durable, can be used for both the back teeth and for the front teeth. They are all very biocompatible materials and allow more conservative preparations of the teeth in order to preserve the most dental tissue residue of the patient.
The internal parts of and zirconium crowns are made with high tech computer systems.
Blocks of zirconium are cut with very sophisticated equipment that ensures extreme accuracy. The lithium disilicate is used through a die casting process. These materials have very recent scientific documentation. Only a dentist is able to decide when they can be a better alternative to more traditional materials, represented by the metal-ceramic crowns.
Dental crowns and veneers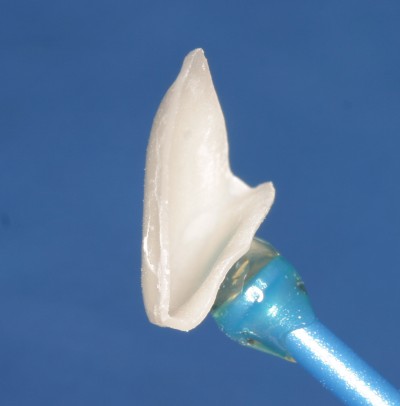 Dental crowns cover the entire residue tooth outside the gum.
The laminate veneers are only the outer part of the tooth; they are thinner and allow greater dental saving.